This store requires javascript to be enabled for some features to work correctly.
Customer Reviews
05/14/2022
Alan D.

United States
Exactly what I was looking for
I was needing some iron plates for a custom project. The design I had in mind was not available unless it was custom made. I found Old West Iron on the web and realized they had a design already advertised that was right on the nose of what I needed. I sent my specs in and within a few days, I had the product from Old West and completed my project! Thanks!!!!!!
Oh, we are happy to have helped you get exactly what you needed! Thank you for your business. That looks good :). Enjoy.
03/15/2022
Dan A.

United States
Laundry Room Completion!
Ordered a 35 inch hand crafted metal strap for the edge of two butcher blocks and could not have been more pleased on how it completed the project. The hardy piece of decorative metal was a wonderful addition. Cannot thank the Old West Iron company enough for how well the piece was packaged for shipping-nothing could have bothered it! Thanks again.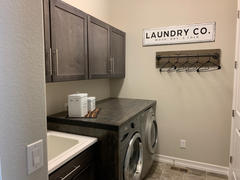 We're happy you are satisfied with your order. Thank you!