1/2" Round Hammered Edge Nail
HCN-10 Round Hammered Edge Nail this item is slightly domed.
Customer Reviews
Write a Review
Ask a Question
06/07/2022
Me M.

United States
Well made nice looking
Exactly what I was looking for, well made, and good looking. I ordered different finishes to see the differences, and it was helpful.
Thank you! We are glad we could meet your needs.
12/04/2021
Denise S.

United States
Perfect Accents
I loved my new custom made monogram, but it just needed something more. After much searching, I found Old West Iron and their awesome products. This is what I was looking for! I added square plate washers secured with 1/2" Dia. Hammered Square Head Lag screws to each corner. I finished the project with 4 h 1/2" Round Hammered Edge Nails. The result exceeded my expectation. Not only is my monogram more visually appealing, but it speaks to my soul! I love it! Thank you Old West Iron!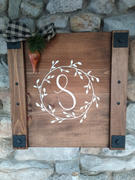 It looks Beautiful! we are happy you love it!